6 Tips for Keeping Your Dog Safe this Christmas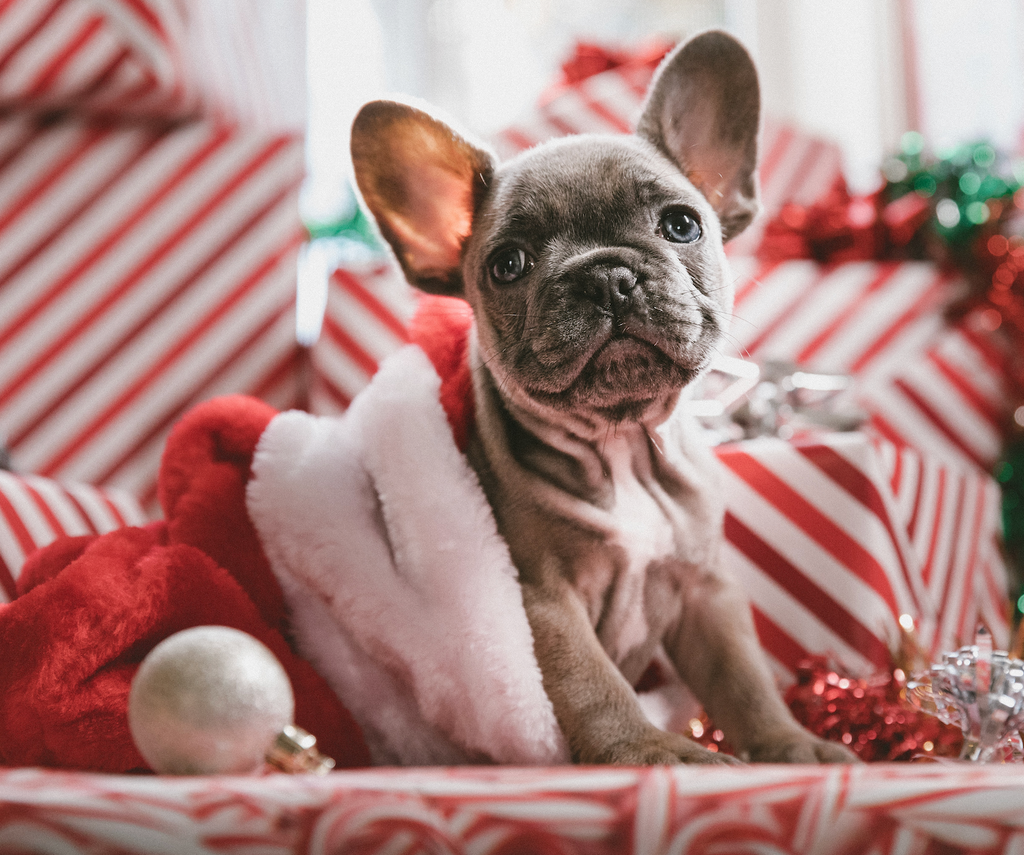 It's the most wonderful time of the year, but that doesn't mean there aren't risks for pet owners at Christmas time. Christmas trees, decorations, and treats all add to the holiday cheer, but they can also pose a risk for our beloved pets. Here are a few simple tips for keeping your pup safe this Christmas!
Christmas Tree
There's nothing better than the smell of a fresh Christmas tree. But it's important to realize that although they look great, they can be troublesome for our pets. The oils in certain trees can be mildly toxic, causing upset stomachs, and the needles can get stuck in your pet's paws or throat. Be sure to regularly sweep fallen needles and keep a close eye on how your pet interacts with the tree.
Make sure that they don't confuse the glittering ornaments with a fun new toy as well as these can easily break and harm your pet. If your dog is overly curious about your tree, consider closing it off in a separate room when you can't watch them.
Dangling Decorations & Lights
There's something magical about dangling lights during the wintertime. It provides cheer even when the sun sets early. These can be enticing for some pets, though. Make sure any lights are out of reach of your pets and turn them off when leaving your pet unattended. Stop your dog from pulling or chewing on any lights as this could hurt them or your home.
Also, keep an eye out for other dangling decorations such as baubles. Or tinsel. These sparkly decorations could be tempting for your pet, but they could hurt themselves or damage your home trying to play with them. Eating items like tinsel could also cause digestive issues, so keep an eye on them!
Holiday Treats
One of the best parts about Christmas is the food! There are sweet treats everywhere, from cookies to candy canes. Just make sure you're leaving cookies out for Santa and not your pet! Chocolate and other sweets can be dangerous for dogs, especially young and smaller ones.
Make sure to keep holiday treats away from your pet. Avoid putting them in stockings if they're reachable, and double-check that there are no food items wrapped under your tree as your dog may sniff them out even when wrapped up.
Seasonal Plants
There's something so festive about seasonal plants like poinsettias. Be careful, though, as these can be dangerous if ingested by pets. Double-check all plants you bring into the home to see how toxic they are to dogs and keep them away if they are.
Fire Safety
Winter is here, which means snow, ice, and freezing weather. Now is probably the time you're firing up your fireplace to enjoy the warmth and crackling logs. Be sure to keep an eye on your pets, though. While animals are instinctually afraid of fire, that doesn't mean a curious pup still can't get injured. Remember to keep an eye on any candles as well!
Christmas Guests
Santa isn't the only one that visits for the holidays. It's not uncommon for people to come together during the holidays. As fun as this may be for you, all the extra people and chaos can be a lot for your pets.
To keep them calm and happy, make sure they have a safe space to retreat to. This should be somewhere away from all the noise. It's also important to keep their regular routine as much as possible, so try to feed and walk them at the same time, as usual, to avoid them becoming too unsettled.
By following these simple tips, you'll ensure both you and your dog has an amazing holiday! If you're looking for something special to gift your furry friend this year, order some of our tasty Just Raw Meals or Dehydrated Treats!
---
December 9, 2020