Choosing the Right Dog Food Bowl Material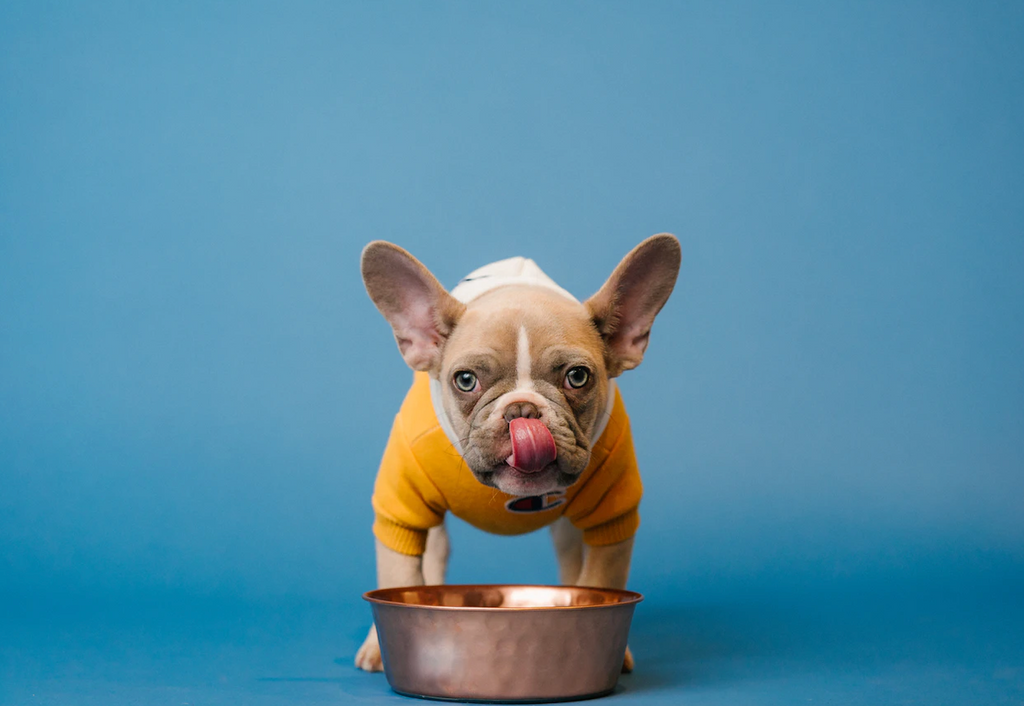 Picking the perfect bowl for your pup to munch out of might seem easy, but not all dog bowls are the same! Dog bowls come in an assortment of shapes, sizes, heights, functions, and materials. There are tons of options out there, making choosing one difficult. Most food bowls are either plastic, ceramic, or stainless steel, but what are the advantages and disadvantages to each material?
Here is our guide to all the pros and cons of the most popular dog food bowl materials!
Plastic Bowl 
Pros
Plastic dog bowls are extremely common and a popular choice for new pet parents. They come in tons of colors, sizes, and shapes. They're also cheaper than other bowl types and don't break when dropped. Due to being durable and lightweight, plastic bowls are a great option for feeding while traveling. Many pet owners also use plastic bowls when the puppy is young before learning their eating habits and investing in something more long-term. 
Cons
Plastic bowls are popular, but they're considered the worst choice for dogs to eat from, especially if you're feeding raw. Plastic bowls can scratch easily and are a chewers delight. Unfortunately, these small scratches make it easy for food to get stuck, creating the perfect breeding ground for bacteria that not even washing will altogether remove. These bacteria build-up can cause issues such as dermatitis. Some dogs are also allergic to plastics, and plastic bowls may contain BPA or other chemicals that can be harmful to your dog. 
Ceramic & Stoneware Bowls
Pros
Ceramic and stoneware food bowls are a step above plastic. They're a more stylish option and come in tons of pretty colors and patterns. They're also non-porous and easy to clean! They are heavier, but this can be a good thing if your dog is prone to pushing their bowl around the room while eating. 
Cons
The downside to ceramic and stoneware bowls is that they're fragile and prone to cracking and chipping. Cracks in bowls provide a place for food to accumulate and encourage bacterial growth. If you see chips or cracks, it's time to replace the bowl. These bowls also tend to be heavier, which can be challenging if you have to feed your pup on the go. 
Stainless Steel
Pros
When it comes to dog bowls, stainless steel is king. We recommend all pet owners interested in feeding their dogs a raw diet use only stainless-steel bowls. That's because they're non-porous, durable, long-lasting, unbreakable, and extremely easy to clean and sanitize. This is especially important when feeding raw, as an unclean bowl contaminated with raw meat can make your dog sick. 
Cons
There aren't many downsides to stainless steel bowls. They're not the most stylish and don't come in as many colors. They are lightweight, which means your dog can accidentally push them around when eating. To avoid this, get one with a non-skid bottom, place it on a mat, or use a bowl stand. Also, be careful when using them outside as the metal can make the water too hot or too cold depending on the temperature. 
Final Thoughts
Material matters when it comes to your dog's food bowl. We highly recommend using a stainless steel bowl to keep everything clean and sanitized for dog-owners that are raw feeding. No matter what bowl material you choose, though, it's important that you clean them regularly to avoid bacterial build-up. Your dog deserves a clean bowl to eat and drink out of. 
If you have questions about raw feeding or want to learn more about our products, please contact us!
---
March 30, 2021