Introducing Just Raw Mini Combo Packs!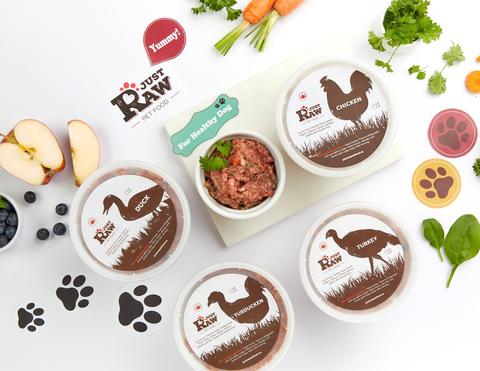 New year, new options! Just Raw is very excited to announce we have launched a new line of mini combo packages. These smaller combos offer more options for pet owners in the GTA.
Benefits of Just Raw Mini Combos
At Just Raw, we know one of the biggest struggles pet owners face when feeding raw is storage. Raw pet meals have to be kept frozen until it's time to defrost and feed, which can pose issues for people that don't have a lot of freezer space.
Our mini combos are the perfect option for people that have limited storage space or have smaller dogs! They're perfect for pet owners that live downtown in condos. This is a value pack that is both affordable and convenient.
Although these are smaller combos (12 lbs vs. the full-sized 24 lbs), we include a large selection of proteins. Most other smaller combos on the market only offer 2-3 protein options, while our Mini Combos include a selection of 3-5 proteins!
Meet Our Mini Combos
Mini Barn Combo
The Mini Barn Combo is perfect for a rotational meal plan to appease dogs that like a variety. This combo comes with five tasty proteins: Chicken, Beef, Turkey, Duck, and Turducken.
Mini Farm Combo
The Mini Farm Combo was designed for dogs that are allergic to chicken. This combo has no chicken in it but instead comes with a variety of three proteins: Beef, Turkey, and Duck.
Mini Just Bird Combo
The Mini Just Bird Combo is perfect for dogs that are all about poultry! It is just like our regular Just Bird combo but half the quantity and includes the following poultry protein options: Chicken, Duck, Turkey, and Turducken.
Mini Combo Packs Quick Facts
Here are some quick facts and a rundown about our new Mini Combo Packs:
Three NEW Mini Combo Packs: Mini Barn Combo, Mini Farm Combo, Mini Just Bird Combo

3-5 protein options for a variety

12 lbs of raw meals (versus 24 lbs in our full-sized)

Perfect for those with smaller dogs or limited storage space.
Final Thoughts
If you've been interested in feeding your dog a raw diet but worry about not having the space, our Mini Combo Packs are perfect for you! Order online today and start seeing the benefits of raw feeding yourself. Most orders are delivered within 2-3 days of ordering, and we'll work with your schedule to find a time when you'll be home to receive the delivery.
---
January 21, 2021