Introducing our NEW Just Raw Rabbit Meal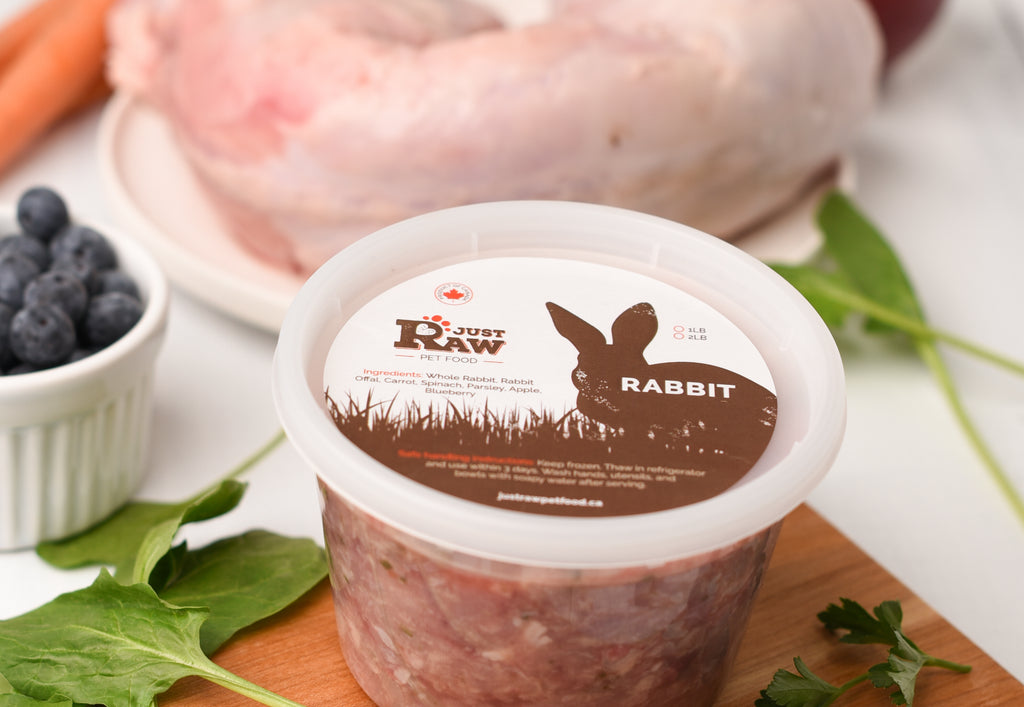 We're excited to announce that our raw meal protein options are expanding! We have recently added a tasty new Just Raw Rabbit meal. At Just Raw, we believe in making raw feeding as easy as possible for pet owners, which is why we're constantly looking to expand our product offerings.
Here is everything you should know about our new Just Raw Rabbit Meal!
Hypoallergenic
Rabbit is a hypoallergenic protein, which means it's a great option for pets with allergies or sensitive stomachs. It's a perfect choice if your pet has poultry or red meat allergies. It also has a yummy gamier flavor that your pup will love.
Locally Sourced
Like all of our Just Raw Meals, all of the rabbit used in our raw meals was locally sourced here in Canada. The rabbits we use were locally raised in Ontario. By sourcing our meat locally, we not only get to support local businesses and farms, but we also have more transparency over what is going in your pet's food!
Nutritional Mix
At Just Raw, we mix all of our human-grade proteins with a nutritional combination of vegetables and fruits. This mimics the natural diet dogs have lived on for years, giving them all of the vitamins and nutrients they need to live a healthy life. Our Rabbit Meal has a ratio of 75% meat, 10% organs, 10% bone, 5% fruit and vegetables.
Healthy Protein
Not only is rabbit great for dogs with sensitivities or allergies, but it's also just a healthy protein overall. Rabbit is high in protein and has one of the highest protein ratios than other proteins. It is also lowering cholesterol than most other protein sources. This means it's great for dogs with certain health issues.
Benefits of Rabbit
Rabbit has tons of health benefits for dogs, which is why we're so excited about this new option. Rabbit has the highest protein ratio compared to chicken, pork, turkey, duck, lamb, or beef, which does wonder for your dog's muscles. It also contains essential amino acids that are necessary for tissue repair and help boost your dog's immune system!
Order today and see just how much your pet will love this meal! Contact us with any questions.
---
April 14, 2021