Meet our Treats: All About Just Raw Dehydrated Dog Treats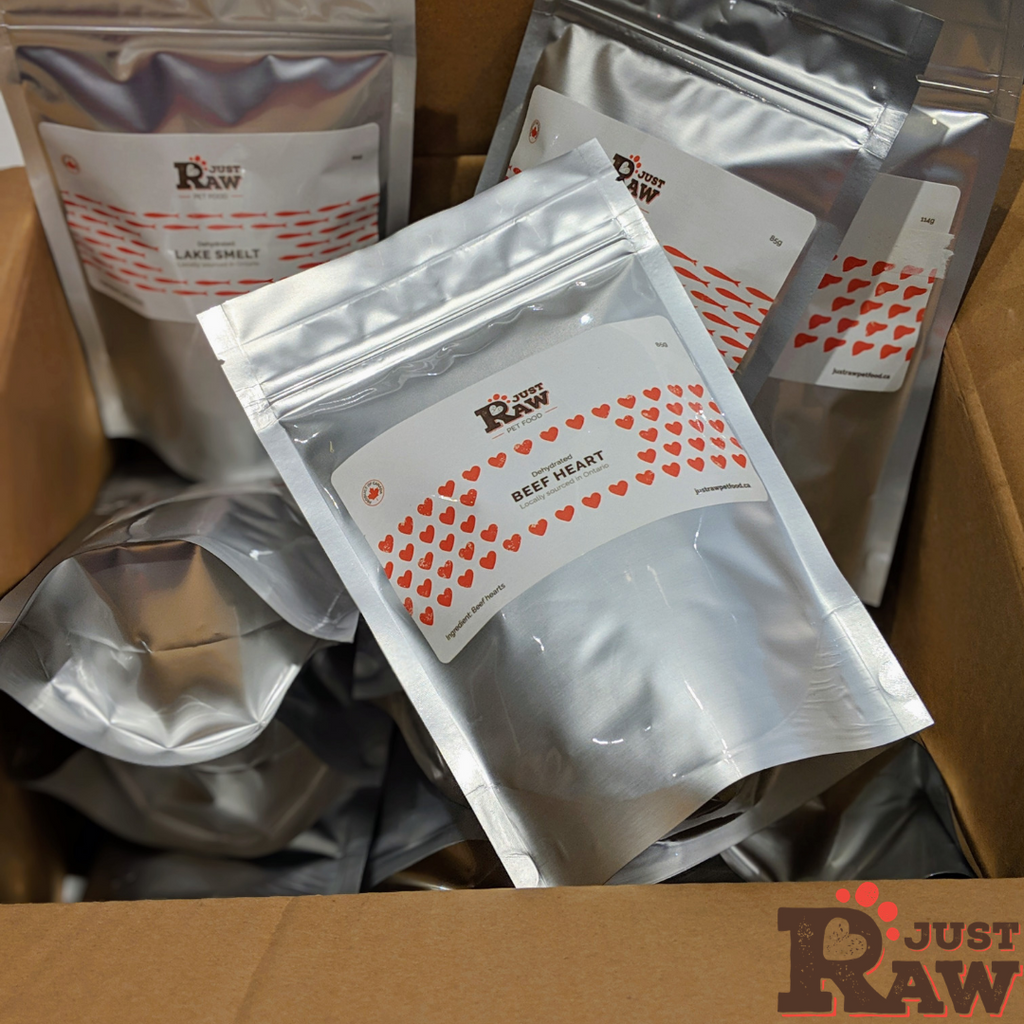 A raw diet for dogs doesn't stop at meals. Adopting a fully raw diet means integrating raw treats as well. At Just Raw, we offer five different dehydrated treat options for your pup. All of our treats use only a single ingredient, are locally sourced, and are free from additives and preservatives so you can be confident in what you're feeding your dog. Here is a little more info about our tasty dehydrated treats.
Lake Smelt
There's nothing fishy about our Lake Smelt Dehydrated Treats! These tasty treats are locally sourced right from the Great Lakes in Ontario. As with all of our treats, Lake Smelt treats use only a single ingredient, and have no additives or preservatives. Lake smelt is full of omega 3, which helps with joint pain, and keeps your dog's coat healthy and shiny.
Beef Liver
Did you know beef liver contains 100 times more nutrients than other meat? Liver is a healthy protein for our furry friends as it helps clean toxins from the body. These treats are also rich in iron, copper, vitamin B, and omega-3s! We source our Beef Liver Treats locally from here in Ontario. These single-ingredient treats are additive and preservative-free!
Duck Feet
Munching down on some feet might not seem appealing to us, but these are one of our most popular dehydrated treat options. Dogs just love them! Duck feet are fully digestible and high in protein. They can even help promote clean teeth and healthy gums. We source all our duck feet locally in Ontario and don't add any presentative or additives.
Chicken Breast Strip
Winner, winner chicken dinner! Our Dehydrated Chicken Brest Strips work great as training treats or as a meal topper. We source all our chicken locally in Ontario, and these treats use only a single ingredient. Chicken is a great protein for dogs, full of omega 6 fatty acids which will help with your dog's skin and coat.  
Beef Heart
Beef heart is packed full of protein and a unique set of nutrients such as essential amino acids, iron, phosphorus, and zinc. Organ meat is an important part of a raw diet, which is why we include it in our raw meals and offer it in dehydrated treat form. As with all of our other treats, these are free of additives and preservatives.
Ready to see your dog go crazy for some tasty treats? Order our dehydrated treats today!
---
August 21, 2020