All About Just Raw Pet Food Combo Packs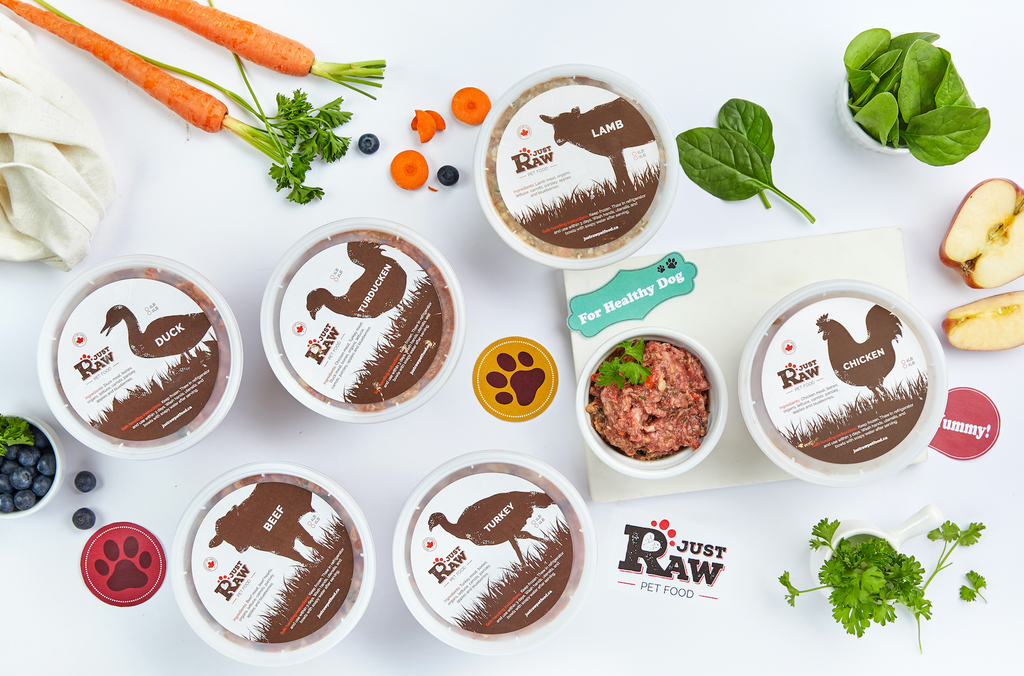 Our goal at Just Raw Pet Food is to make raw feeding as easy as possible for pet owners. That's why we ensure all of our raw meals are nutritionally balanced, pre-packaged and make ordering and delivery a breeze. In order to make raw feeding convenient and affordable, we offer a number of combo packs. Here is a quick look at the raw meal combo packs we currently offer!
Mini Combo Packs
We recently launched three Mini Combo Packs! These 12 lbs. packs come with 3-5 different protein options and are perfect for people with smaller dogs or with limited freezer space. We currently offer three great Mini Combo Packs: Mini Just Bird, Mini Barn Combo, Mini Farm Combo.
Harvest Combo
Our Harvest Combo is perfect for dogs on a rotational meal plan and comes with 4 different types of protein: Beef, Turkey, Duck, and Turducken. It's a great 24 lbs package for dogs that have a sensitivity or allergy to chicken.  
Game Bird Combo
Does your dog love gamier meat? Then our Game Bird Combo is the perfect option for you! This 24 lbs combo pack comes with Turkey and Duck and is perfect for dogs that are allergic to chicken but love poultry.
Just Bird Combo
This is the perfect combo pack for dogs that love poultry! The Just Bird Combo comes with 24 lbs of 4 different poultry options: Duck, Chicken, Turkey, and Turducken. It's the perfect medley of poultry proteins in one box.
Meat Lovers Combo
Our Meat Lovers Combo is Just Raw's best seller combo pack for a reason! With 5 tasty protein options, this combo is convenient and affordable. It's perfect for a rotational meal plan and comes with a medley of proteins: Chicken, Duck, Turkey, Beef, and Turducken.
Just Raw Combo
Our Just Raw Combo is one of our top sellers. It comes with five tasty protein options: Beef, Chicken, Turkey, Duck, and Turducken. It's perfect for dogs that like a variety of options, and your dog will never get bored!
Just Duck Pack
This 12 lbs pack comes with our tasty duck raw meals. The Just Duck Pack perfect for dogs that know what they love and don't like to change their diet. It's a great pack for poultry loving dogs that prefer something gamier or are allergic to chicken.
Just Beef Pack
Our Just Beef Pack is 12 lbs of Alberta's finest beef! It's available in 1 lb or 2 lbs containers, depending on your preference. It's perfect for dogs that want a steak dinner every night or have poultry allergies.
Order online today and start seeing the benefits of raw feeding in your dog! Most orders will arrive within 2-3 days after purchase, and we'll work with your schedule to find the best time for delivery. Contact us with any questions or issues.
---
February 4, 2021