Meet our Meals: All About our Just Raw Turkey Meals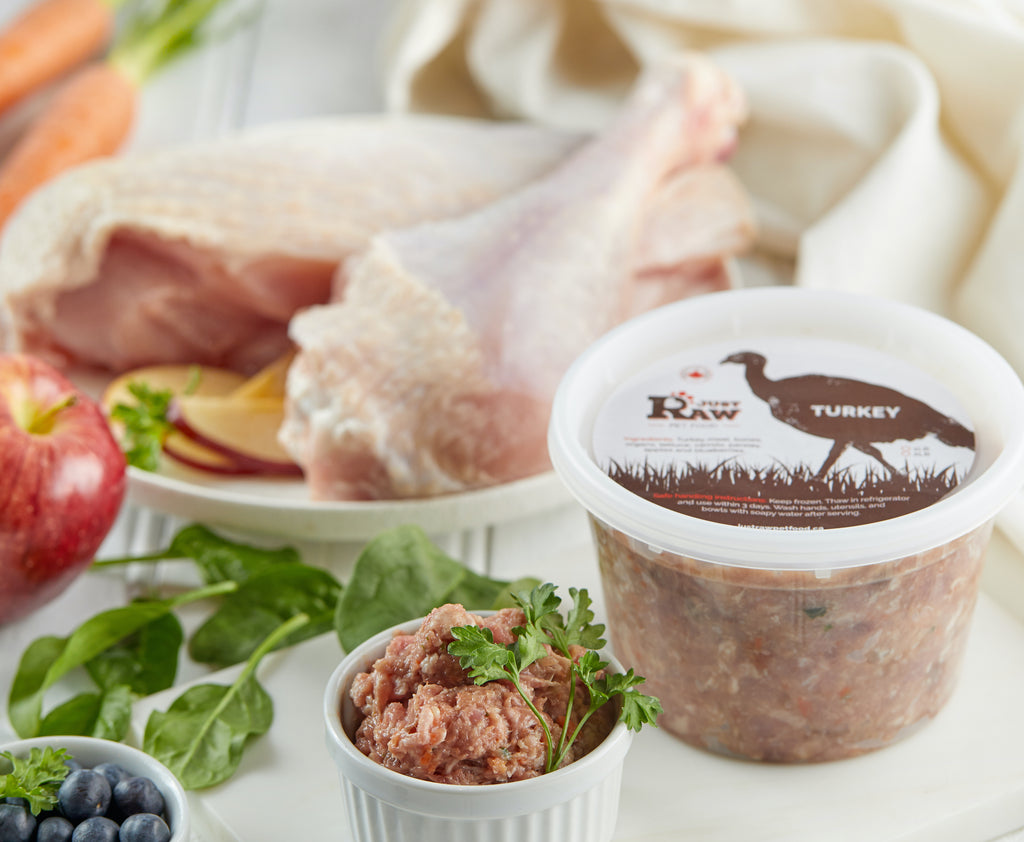 We started Just Raw to make it as easy and affordable as possible for Toronto pet owners to feed their dog's a balanced raw diet. That's why we offer seven different protein options for our raw meals. Turkey is a great lean protein for dogs and is a great poultry option for dogs that may be struggling with weight issues or have allergies to chicken. Here are a few things you may not know about our Just Raw Turkey Meals.
Whole Bird
Did you know that we use the whole bird at Just Raw in all of our poultry meals? This provides a meatier and fluffier product. Other raw companies tend to use only carcasses, which results in higher bone content. Using the whole bird, we're ensuring your dog is getting a high protein meal with a healthy balance of bone and organs.
Sourced within Ontario
For our Just Raw Turkey Meals, we source all of our meat from within the province of Ontario! Not only do we love supporting local farmers, but this also means that we have more transparency and control about the meat in our product. All of our vendors are HACCP and CFIA certified, and all of the turkeys we use are Grade A and human-grade, so you can be assured your pup is getting the best possible protein.
Nutritional Mix
If you take a look at our Just Raw meals, you'll notice that we include more than just protein. Our company works with professionals to create a balanced mix of protein, bone, organs, fruits, and vegetables in our raw meals. This way, your dog is getting all of its essential nutrients. In our Just Raw Turkey meal, we use whole turkey, turkey liver and gizzards, turkey hearts, carrots, spinach, parsley, apples, and blueberries!
Aids with Allergies
Does your dog have food sensitives or allergies? It's not uncommon for dogs to be allergic to chicken, which is why we offer turkey as a poultry alternative. It's a leaner, healthier option for dogs that cannot eat chicken. All of our Just Raw Meals, except our Turducken meal, use only a single protein to help dogs avoid allergies from other proteins.
Leaner Option
If your pet struggles with packing on weight, your vet might suggest you look at poultry options that are less fatty than beef. Turkey is the leanest poultry option compared to chicken and duck, making it the perfect choice if you're trying to trim some pounds on your pup.
Ready to give your dog a taste of our Just Raw Turkey meals? Order today or contact us to learn more!
---
October 29, 2020