Meet our Meals: All About our Just Raw Chicken Meals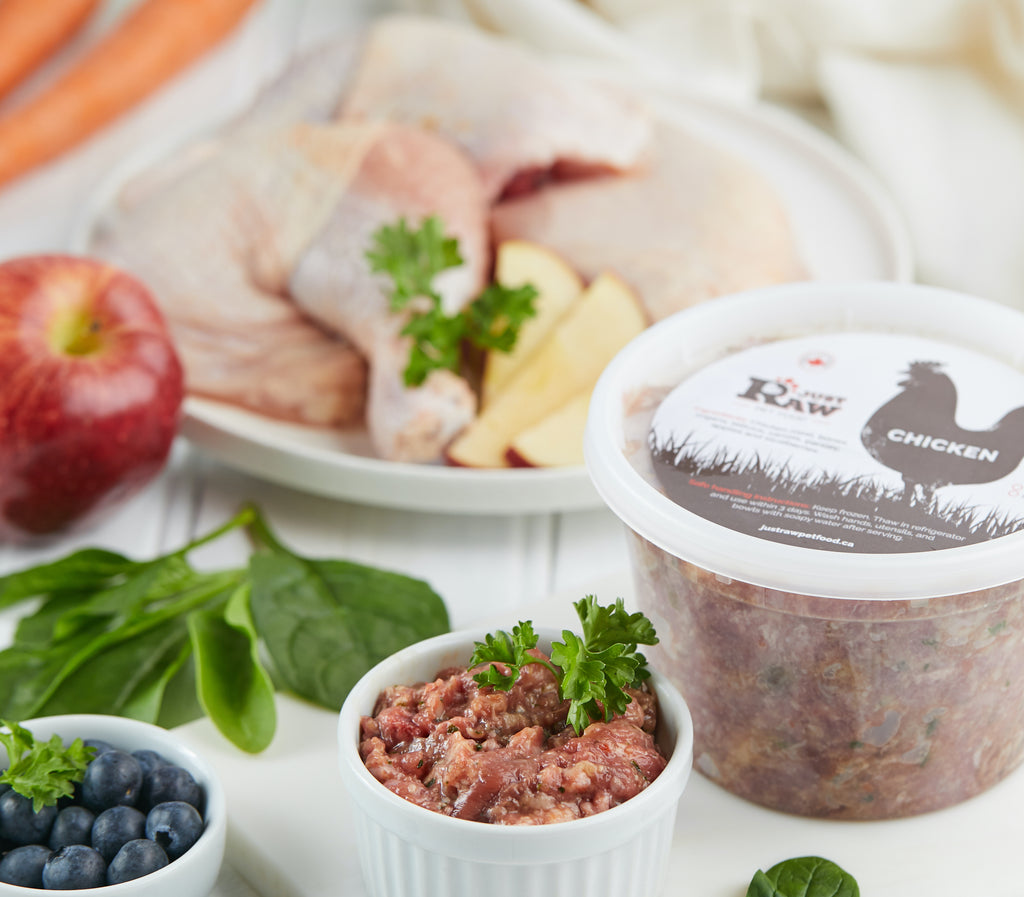 At Just Raw our goal is to make it as easy and affordable to feed the pets of Toronto a balanced raw meal. That's why we offer a number of protein options for our raw pet meals. One of our most popular meals is the Raw Chicken Meal, which is a great starter protein for dogs. Here are some interesting things about our chicken meals that you may not know.
Locally Sourced
All of our poultry, including our chicken, is locally sourced from farms here in Ontario. We also only source from HACCP and CFIA certified vendors. This ensures that all of the chicken in the raw meals is grade A and human-grade.
Balanced Mix
There's more than meat in our Just Raw meals. We work with professionals to create a balanced mix in our raw meals that provide all of the essential nutrients your dog needs. That's why we include fruits and vegetables in our meals as well as protein as these are useful in completely nutritional holes in diets. In our Just Raw Chicken meal we use a mix of chicken, chicken liver, chicken gizzard, chicken heart, carrots, spinach, parsley, apples, and blueberries!
Whole Bird
What sets Just Raw meals apart from other brands is that we use whole bird in our chicken meals. This means that our product is meatier and fluffier. Many other companies only use carcasses, which tend to have a higher bone content. By using whole bird we ensure your dog is getting a high protein meal that also includes a health balance of bone and organs as well.
Single Protein
It's not uncommon for dogs to have food allergies or easily upset stomachs. In fact, many dog owners turn to raw diets to treat these issues. To make it easy and safe, we only use single protein in our raw chicken meals. This helps dogs avoid allergies from other proteins.
Pre-Packaged Sizes
One of the biggest issues holding pet owners back from switching to a raw diet is convenience. That's why we make it as easy as possible to feed raw by pre-packaging our chicken meals in 1 pound and 2 pound containers.
Ready to start seeing all of the benefits of a raw diet in your dog? Order our tasty Chicken Raw Meal today!
---
September 25, 2020